2021
the exhibition of YSG work at RHS Harlow Carr, listed below has now ended. The work is back home in my garden in Hebden Bridge  , missing its audience , but brightening up our lockdown.
2020
Currently exhibiting 3 installations as part of the exhibition Invasive Species, at RHS Harlow Carr , Harrogate. The work of 15 members of the Yorkshire Sculptors Group are installed throughout the gardens . Until January 3, 2021.
"Pernicious"– approx 40 glazed ceramic pieces installed in a rhodendendron copse . Each piece is holds multiple fingerprints , tiny pieces of  squeezed clay- the whole piece has a dead, bone like quality contrasting with the appearance of growing and organic.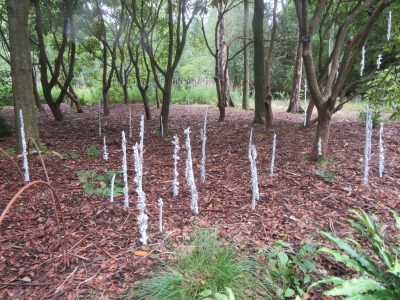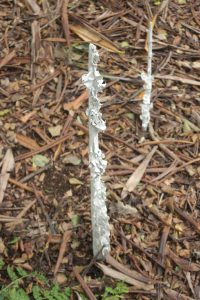 "Squeezed" is a cluster of  glazed ceramic pieces hang in a rhodendendron tree. Layers of fleshy, bloody stains coated with slippery shiny transparent glaze give the cluster an eviscerated disturbing appearance. Each small piece is made by forcefully squeezing clay to create individual hand casts.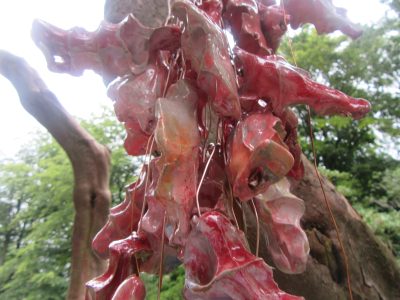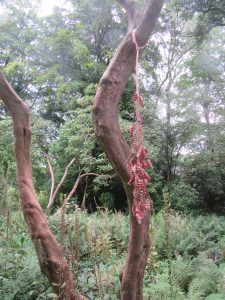 "We Only Print in Blood Red" is an instalation of 8 glazed ceramic pieces, wired into a tree. Each piece has hundreds of tiny squeezed fingerprints attached. The tree looks like it has been invaded, infested , or has an angry looking rash – blurring the distinction between tree and human sickness and disease.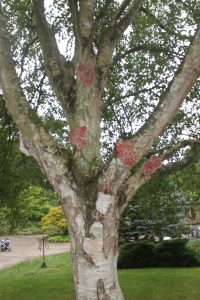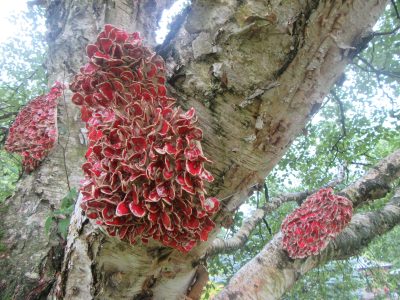 https://www.rhs.org.uk/gardens/harlow-carr/whats-on/sculpture-trail
2020
Due to corona virus, my exhibition "Confinement" , with Frances Earnshaw and Helen Sargeant at Artsmill, Hebden Bridge, has been postponed.
I am currently collecting photos of bras for my Bra Rifle Range work , (see selected works) . Please email images to sally@sallybarker.org  (not being worn plse!)
2019
Breaking Ground at Patchings , Calverton, nr Nottingham.
a Yorkshire Sculptors Group exhibition, here is an written and audio guide of all the artists,
Also with YSG:
Temporal Terrain at Crossley Gallery, Dean Clough Gallery, Halifax , a group exhibition. Sep – Oct 2019
Also with YSG
object/subject , exploring the relationship between  printing and sculpture, at the West Yorkshire Print Workshop, opening  Sep 16- Oct 26 , 2019.
 (im)Material Disarray at SNAPArts in Wakefield, a Yorkshire Sculpture International fringe exhibition, from July 31 – Sep 8
---
Prosaic – a painting exhibition at Coterie Gallery , Rotherham
https://www.instagram.com/prosaic97/