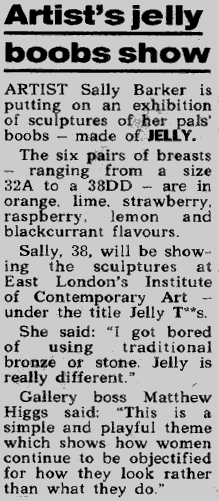 The Jelly Tits installation comprised of 16 pairs of women's breasts cast in jelly, installed at the correct height. Originally exhibited at City Racing Gallery, London – then at the City Racing retrospective at The ICA.
The piece was conceived as a respect for the individuality of women's bodies and the frustration I felt at constantly being bombarded with "the perfect pair" in advertising, television, magazines, newspapers, etc. It was and still is a well worn path: that of taking control, re-appropriating; it was a way of visualising an essentially feminist voice but doing it in a way that moved the issue on, hence the jelly. I wanted a material that had no place in high art convention, apart from plaster, bronze & other casting materials which are cold, sterile & hard. By contrast jelly lives in the kitchen – it is associated with mums & children. The uncomfortable unity of edible foodstuff and body part aims to underscore the point that subconciously we daily consume women's bodies. The jelly picks up every pore, hair, subtlety & individuality of the breasts – it was very important that they were hung at the correct height and with the precise distance between nipples.
Friends and colleagues willingly participated as my life models.